Allen and I adopted a puppy named Tucker on June 6th, 2015. We were in search of a havanese puppy because Allen had that same breed when he used to live with his parents and after the loss of my cat Frankie. Tucker has brought so much joy into our lives from the very second he entered our home. Tucker likes to go outside and play in our backyard and protect the house because he thinks he is a guard dog. Tucker has brought me happiness from the kisses that he likes to give whenever a day gets rough. Tucker is like a companion because he follows me everywhere I go and never leaves my side and he waits for me when I get home. Allen saw another puppy that he was interested in getting for Tucker as a buddy. We decided to adopt again from Riverview Kennels on December 14th, 2015 and got another havanese puppy and named him Toby. Toby is full of energy and is very shy and when he tries to bark it sounds like a howl instead. Toby enjoys following Tucker and taking after his lead. Toby always wins a tug of war and is just as strong for a little guy. These two puppies are full of energy and never will leave each other's side. I couldn't be happier to have them as a part of our family.
--Allen & Abby, South Dakota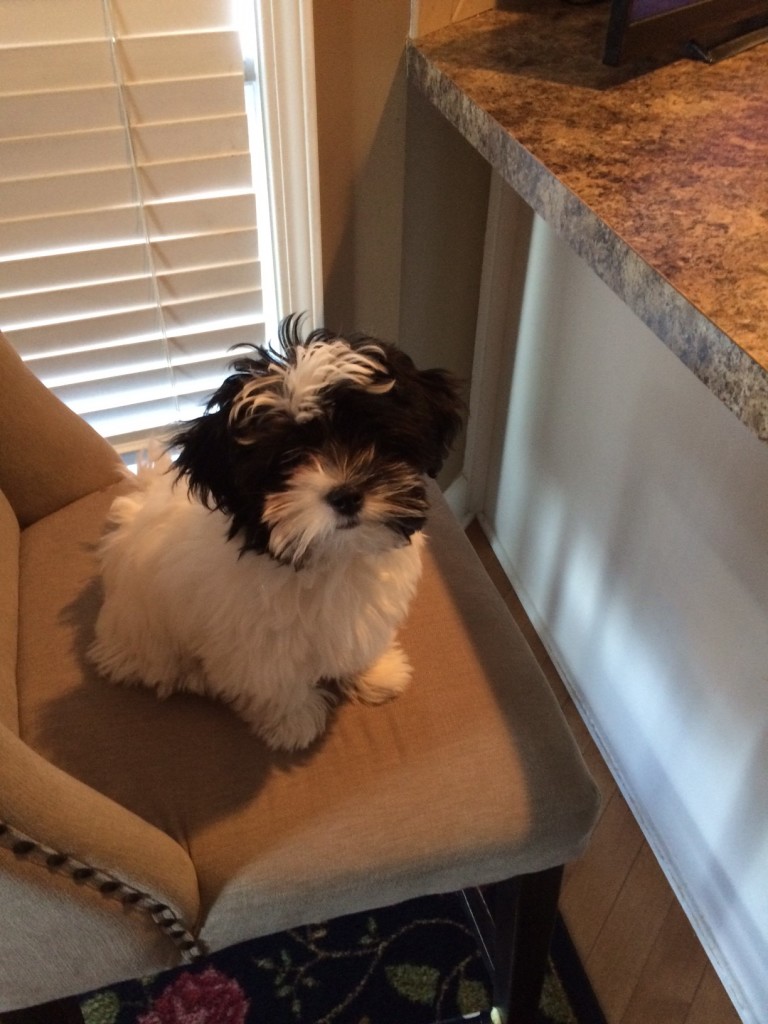 Just wanted to send you the picture and update. This is Finley (but we call her Finnie)……I just have to tell you what an awesome puppy she is. We are so happy with her. She is extremely smart and just loves to play all the time. We have an open hard wood floor kitchen that we put up gates to keep her in while she is training. Because of all the snow we decided to train her to go on a "potty pad" by the back door onto our deck. By her 3rd night we left her to run the kitchen all night if she wanted (as opposed to sleeping in her kennel which she HATED and barked all night). She went to the potty pad every single time since day three. So smart. She likes to chew a lot but we have purchased some raw hide bones for her to chew on and that seems to help. She is extremely spoiled and is the center of attention for all of us when we are home. She also just got her last round of shots and our Vet says she is in perfect health. Just want to thank you for her. She has changed our day to day for the better……..my Girls said it was the best Christmas ever……
--Kyle, Nebraska
Just wanted to let you know how much we are enjoying our puppy. He is exactly what I was hoping for! He is so good with the grandkids -- plays just like he is one of them. They all love him. He loves to sit with us at night and watch tv (a chew stick in our hand). He lets us know when he has to go outside. (Sometimes we just don't listen close enough) He is almost 10 pounds already. I can't believe how fast he got big. I purchased a "doggy fence" that I put across the doorway to all the carpets. He has the kitchen, sitting area and dining room to run and play. We leave him out of his kennel when we leave the house. He only uses his kennel for sleeping. He is so loving and playful. He barks when someone drives into the yard. (Since I am very hard of hearing, this is what I was hoping he would do.) We had him trimmed and now letting his hair grow out again. He knows a few tricks now -  he would do anything for his favorite treats! Thank you for raising such wonderful dogs.
<-- Duke begging for a treat 🙂
--Linda & Neil, South Dakota
I had to write to you to tell you how happy we are with Sugar. She has learned so much in her short time with us. She is truly such a joy to have in our home and has brought us so much happiness. You made her transition to New York very easy for us and Sugar arrived in perfect condition-happy and healthy. We are so glad we decided to purchase a puppy from you. Thank you for all you did to ensure we received a happy, well-adjusted, beautiful havanese. 
--Rosemarie, New York
I just had to write to you to tell you just how much we adore our puppy, Tigger.  He has been so much fun and he gets along famously with other dogs, although he prefers the little ones like him to the larger dogs.  We have spoiled him so much that he was a little intimidated to learn that he wasn't the biggest dog on the block as we had led him to believe.  Because, truthfully, our little dog runs our household and we wouldn't have it any other way.  He is such a delight and we couldn't imagine our lives without him. 
Thank you so much for breeding such wonderful, happy animals.
--Toni, Ohio
Tasha is doing well. Both my husband and I love her very much. She is very sweet, smart, agile, and loveable. She learns tricks very quickly and now she is able to put her toys away in a basket. She also attended  Puppy Manners and Adolescent Manners classes through SPCA.  She is the most well-behaved puppy in class, but when she gets home she loves to act crazy. Every time we walk Tasha on the street, people often stop to look at her and smile. My husband I are very grateful she has become a part of our family. Thank you for bringing her to our lives.
--Kareen, California
Rusty has been and still is an absolute joy to have around, he is such a huge part of our family and we just love him to pieces. He is everything they say a Havanese should be, loving, playful, loves attention and definitely get's insulted if you don't acknowledge him when you enter the house. When he hears the car coming up the driveway, he climbs on the windowsill with his front paws and looks at you through the window till you get out of the car. Oh and did I mention that he is very smart? Well, he is. He loves to play with our Rottweiler and they have a lot of fun together.
--Claudia, Pennsylvania
We love our little baby Meeko (Dallas). He's perfect! He's so adorable we always get stopped by people commenting on him. He listens very well and he's super smart! He's the most perfect boy we could have asked for. Our whole family loves him including his Cocker Spaniel brother. Thank you so much for giving us the opportunity to have this little baby!
--Amanda & Scott, California
I can't even express how much we love her!!! Anyone who meets her agrees - except our Bichon. She has so much energy, is playful, very loving and just a wonderful dog! 
You were wonderful to work with. I was a little concerned finding a puppy on the internet but after a few emails and then talking to you, I had no concerns.  Our puppy is healthy, happy and was the perfect addition to our family!
--Debbie, Florida
Thank you so much for sending her to us. She has been a wonderful pet to the whole family. We love having her around and she is so smart too.... We couldn't have asked for a better tempered dog and surely not one who is that sweet.
--Carolyn, Indiana
We got "Jax" from you the first week in January. We just love him!! He has been the most wonderful addition to our family! Thank you!!
Jax is the only hypoallergenic dog our son hasn't been allergic too!
--Steph, South Dakota
Hi I just want to thank you and forward an updated photo of my/our boy Bruno. He as brought much joy and love to our family. He is healthy , intelligent and very handsome.
--Beth
Hi Kara
Wanted you to have an update on darling Marley. He is totally trained and has few accidents He is loving and active We take him all over This summer we will travel to Chicago with him, first flight since you sent him He was neutered and did great. He sleeps on me every day for at least 2-3 hours. I will attach a recent photo Best wishes.
--Amy & Bob, Florida
Thank you so much for our beautiful Myles. He really is a joy to have.
Just wanted to update our life with Myles. He is now nine years old and the best pet we have ever owned.  We are so glad we got him from you. We play hide and seek every nite  and when he finds me he barks and it's so funny. He is the best..thanks again and if I ever get another havanese it would definitely be from you.
--Debbie, West Virginia
We absolutely love our new puppy! We have been enjoying our newest member of our family so much. Our Vet gave "Max" a clean bill of health yesterday and our family couldn't be more pleased with that. 

We can tell this puppy came from a loving and caring environment. "Max" has adjusted well to his new surroundings with us and everyone here in our California home, including myself, has absolutely fallen in love with him. 

We look forward to many years of joy and happiness with our new puppy. We couldn't be more pleased! Thank you for everything. 




--Celia & Brian, California